We all want to make the world a better place, right?
Whether you're a doctor, public servant, or construction worker, we all play a part in making the world go round. All jobs are valuable, but some jobs and companies enable you to instantly see the positive impact you make on the world.
That's the kind of company we strive to be at Biomeme.
Interested in joining our team during an unprecedented time? Be part of the solution! See our open positions here.
At the beginning of the COVID-19 pandemic, we directed our resources to address the SARS-CoV-2 testing challenge. We've repurposed our mobile hand-held PCR platform, dramatically scaled up our Philadelphia-based biotech manufacturing, and even launched our own clinical laboratory testing service, One Health Labs. It was a risky decision at the time, but we knew we wouldn't be living up to our company mission if we didn't follow through. And boy, a lot has changed since January. So far, we've ramped up our product manufacturing, purchased new equipment, and more than tripled our staff!
We took a step back and asked our staff: Why do you love to work for Biomeme?
Here's what they told us.
1. People
Biomeme's team is a very diverse and… an eclectic group of people. We wouldn't have it any other way. We like to think that we celebrate our employees for their differences in background and interests. Luckily, it sounds like that's paid off because it was the number one reason people said they loved working at Biomeme.
The conversations (in multiple languages - from French to Dutch to English) around the lunch table freely flow from the latest Netflix show, to a new scientific journal article, to the biochemistry in our RNA extraction kits, to lyophilization of our assays, to the fluidics and optics in the next gen thermocycler platform, and back again to the latest Dad Joke posted on Slack.
Our team members told us the people at Biomeme are "extremely welcoming and friendly" and that they are "treated with respect by coworkers." How heartwarming, right? I don't know about you, but when I go to work, I am always happier when I feel like I'm valued not only as a worker but as a human.
Not only does our team love the people that they work alongside, but they told us that everyone pulls their weight and is collaborative. Collaboration is key! We realize no one has all the answers, so it's important to talk with one another to find solutions to problems and make our products better every single day.
Doesn't that sound like a great place to go every day?
2. Make an Impact
The next most popular answer we heard was that people love to work at Biomeme because they get to help people stay safe.
We promise we didn't coerce anyone to respond this way!
Since day one, Biomeme has been designing and manufacturing state of the art technology that anyone can use - seriously, anyone. Have you seen the original video of our co-founder's daughter doing sample prep? Pretty cute, but we're never satisfied with 'good enough' and consistently work towards a better and unique way to perform testing and keep people safe.
3. Fast-Paced
With innovation and the never-ending hunger to improve, the day-to-day work at Biomeme is fast. Luckily, our team appears to like that about us!
Our team told us every day is different, and they love that they get to work with various departments. Although priorities shift quickly and it requires the entire team to remain flexible and organized, it keeps people on their toes and excites them.
4. Flexibility
Even though our staff needs to remain flexible with constant adaptation and change, they also told us that they love that their managers are flexible.
Our employees told us that their managers understand different life situations and are always willing to work out yours. Whether that means working from home or coming in early or late, management is always flexible and trusting.
Seriously, folks, we didn't threaten to break their arms to say these things!
5. Start-Up
There's no better feeling than being a part of something small, and then nurturing and growing it into something big. No, we're not talking about growing a monstera plant (but that's rewarding too).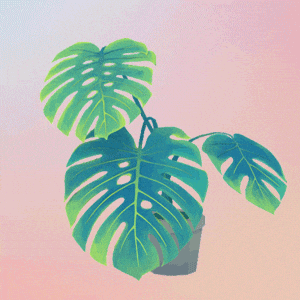 When we asked people what attracted them to Biomeme, this was a top answer. Our staff could see their potential to grow and develop their skills at a small company. When you join a small company, there is always something new to learn and Biomeme is no exception to that.
Along with offering room to grow, our people were floored by the work being done and saw the opportunity to join an exciting company that creates unique products. Personally, I love learning about the serious science we're engaging in at Biomeme. Everyday, I'm learning new things about epidemiology, molecular biology, chemistry, hardware engineering, software, and manufacturing.
Time to keep blossoming and growing team!
6. Free Stuff
This one was a no brainer. Who doesn't love free stuff?
When you get started at Biomeme, we set you up with your tech stack (obviously), but we also give you some t-shirts! Take a look at our latest Biomeme t-shirt: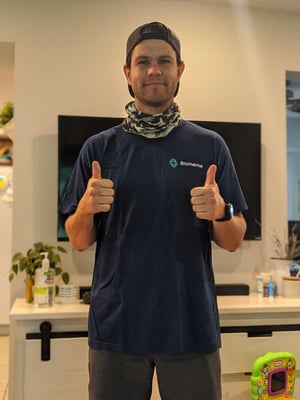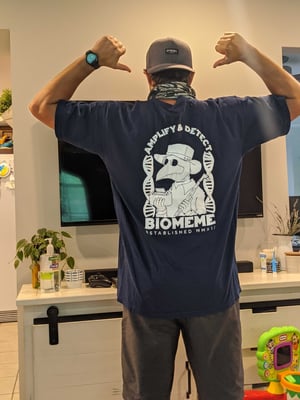 Our team also told us they like that we keep the office kitchen stocked up with snacks (shout out to Goldfish and Famous Amos cookies), sparkling water, coffee, and tea. They told us free snacks and drinks help them refresh and stay motivated throughout the day.
Of course, it's also pretty convenient working at a diagnostics company during a pandemic….
Glad the free perks are working the way we intended! *wink wink*
7. Work in Center City
Biomeme is located in the heart of Center City Philadelphia, and luckily, our team loves that! We're surrounded by restaurants, bars, and coffee shops that make it easy to grab lunch with a coworker or friend, then grab a beer after work.
Our staff also love to walk or ride their bikes to work in Philadelphia's vibrant city. Did you know that Philadelphia is known as the "Mural Capital of the World?" There's always something new to see!
8. Benefits
Okay, now the boring but essential stuff. Our staff told us they appreciate how they receive compensation. From yearly reviews and raises to 401k matching, Biomeme does a little bit of everything. Here's a quick breakdown:
401K Matching
HSA Matching
15 Paid Time Off Days
Medical, Dental, Vision, and Life Insurance
10 Paid Holidays Off
We're glad our staff told us they appreciate their benefits. Still, we're also happy to hear that they love the different staff events we hold throughout the year, from team-building events and games to volunteer days and some friendly baking competitions. We like to have fun around here!
Does Biomeme sound like the place for you?
We hope so! Like we said earlier, we have TRIPLED our staff since January, and we're welcoming new people every week. If you think Biomeme is the right place for you, let's start the conversation.