We are proud to announce that Biomeme's portable test solution to detect SARS-CoV-2 was approved for in vitro diagnostic use by Health Canada on June 30, 2020. Our SARS-CoV-2 Real-Time RT-PCR test solution is now available to healthcare providers in Canada through our partner, Precision Biomonitoring. This milestone brings us one step closer to increasing testing capacity throughout the US and Canada.
Here's what has been approved and is found in a typical COVID-19 test kit.
Biomeme M1 Sample Prep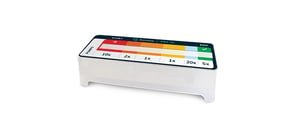 Most PCR COVID-19 tests start with sample collection and preparation. Biomeme's M1 Sample Prep Cartridge for RNA is a portable solution for the extraction of purified RNA from samples collected using nasopharyngeal, oropharyngeal (throat), nasal and mid-turbinate nasal swabs. Unlike traditional sample prep equipment like centrifuges and vortexers, our cartridges require no lab equipment, refrigeration, electricity, alcohol precipitation, or phenol chloroform extraction making it the perfect solution for mobile laboratories in remote locations. Simply add your sample and RNA Process Control to the Sample Prep Cartridge to extract RNA in minutes.
Biomeme SARS-CoV-2 Real-Time RT-PCR Test
After sample prep comes testing. Biomeme's easy-to-use Real-Time RT-PCR Test is a portable solution now available to health care providers in Ontario and across Canada. The SARS-CoV-2 Real-Time RT-PCR Test detects the RNA of severe acute respiratory syndrome, COVID-19. The COVID-19 RNA targets are multiplexed together with our RNA positive control, which is an RNA extraction and RT-PCR control. Early identification and diagnosis of COVID-19 is crucial to ensure a rapid response, thus mitigating the possible additional negative consequences of the virus. When using this test, results are typically obtained onsite within 60 minutes.
While our SARS-CoV-2 test is optimized to be used in the field like many Biomeme products, it also transitions nicely to the lab using our other form factors: Go-Strips™, Go-Plates™, and Bulk Vials. Regardless of form factor, our SARS-CoV-2 Real-Time RT-PCR Test is a triplex assay that detects SARS-CoV-2-Orf1ab gene, SARS-CoV-2-S gene, and our RNA Process Control (RNA extraction and RT-PCR control utilizing MS2 bacteriophage). The Limit of Detection (LoD) for our SARS-CoV-2 test is 1.8 copies/µL. Here's a short breakdown of the approved form factors:
Go-Strips™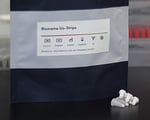 Biomeme Go-Strips™ are optimized for performance in the field. Each strip has 3 reaction wells and each well contains a 20 µL lyophilized triplex reaction. With this form factor, there is no aliquoting or mixing of components in the field. You just add your sample to the strips and begin your test.
Go-Plates™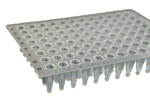 Biomeme Go-Plates™ are optimized for lab use in standard commercial thermocyclers (Bio-Rad CFX96 and ABI QuantStudio5). Each Go-Plate has 96 reaction wells that can be cut down with scissors if needed and each well contains a 20 µL lyophilized triplex reaction. Just like Go-Strips, each plate is shelf-stable, pre-mixed, and pre-aliquoted with the same lyophilized triplex reaction.
Bulk Vials

Biomeme Bulk Vials are optimized more for lab use in standard commercial thermocyclers and Biomeme's Franklin™ Real-Time PCR thermocycler. Each vial is shelf-stable and lyophilized, but they are not pre-aliquoted like Go-Strips and Go-Plates.
Franklin™ Real-Time PCR Thermocycler and Accompanying Software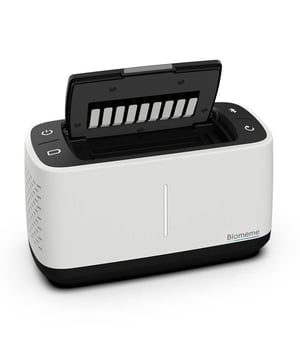 Biomeme's Franklin™ Thermocycler weighs only 1.2 kg, battery-operated and is able to deliver results for up to 9 samples in about 60 minutes. The portable device is ideal for all locations where screening is needed such as assessment centers, long-term care homes, retirement communities, ships, airports, borders and more distant regions. Precision Biomonitoring has also partnered with Guelph-based environmental consulting firm, Shared Value Solutions, to bring the approved rapid mobile testing devices to Indigenous communities in northern Ontario in response to COVID-19.
Biomeme Go, our free and intuitive smartphone mobile app, pairs wirelessly with the device to easily run, monitor, and analyze the results of each test. Tests can be run online or offline, results can be interpreted in real-time regardless of the user's PCR-expertise, and all data can be securely synced to the Biomeme Cloud. Both the device and smartphone can be transported in a laptop-sized bag making it ideal for spot tests, especially when results are now needed in emergency rooms and more rural and remote regions.
A Third-Party Evaluation
Northwell Health is New York State's largest healthcare employer, with more than 68,000 employees and home to 23 hospitals and more than 700 outpatient facilities, as well as urgent care centers, kidney dialysis centers, acute inpatient rehabilitation, sub-acute rehabilitation and skilled-nursing facilities, a home care network, a hospice network, and other services. Northwell completed a clinical evaluation of the Biomeme SARS-CoV-2 Real-Time RT-PCR Test with clinical nasopharyngeal and oropharyngeal samples with a range of Ct values. This evaluation utilized 65 samples tested with 4 comparator platforms: GenMark ePlex, Hologic Panther Fusion, Wadsworth/CDC, and Roche Cobas 8800. It found a 98% correlation (64/65).
The approval from Health Canada allows Biomeme and Precision Biomonitoring to contribute to initiatives and programs recently implemented by the Government of Canada, as well as close to PBI's home in Ontario, where the government continues to focus on increasing testing capacity and creating safe workplaces.
Need Tests?
If you're interested in using Biomeme's portable real-time RT-PCR test in Canada, please contact Precision Biomonitoring to get started.