Each year, the University City Science Center's Nucleus Awards bring together the region's leaders and groundbreakers in innovation, all while supporting Philadelphia's future as a hub of innovation and discovery. This year Max Perelman was honored to accept the 2021 Commercialization Award on behalf of Biomeme.
The University Science Center's Nucleus Award for Commercialization recognizes outstanding contributions to the commercialization of innovative science and technology. The awardee is a catalyst in the acceleration of technology transfer. By identifying and developing new and creative ways to transition discoveries to the marketplace, the awardee has a tangible impact on quality of life, economic development, or the welfare of society.
Below is the interview with Max Perelman courtesy of the University City Science Center. Read the full interviews with this year's Nucleus Awards Honorees and learn more here.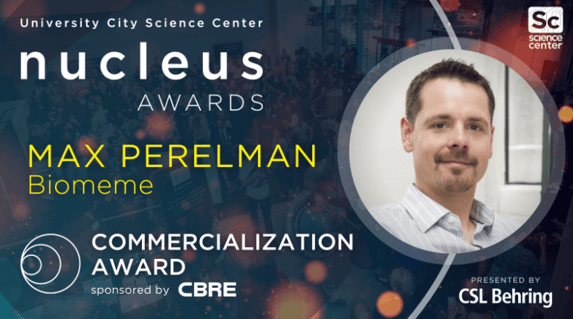 Commercialization Honoree: Max Perelman, Co-Founder & Business Lead of Biomeme
What inspired you to launch Biomeme nine years ago? Was there a specific market need you were trying to fill at the time?
My co-founders and I each have had different reasons for launching Biomeme.
Jesse vanWestrienen, who leads our biology team, had contracted both Dengue fever and Malaria (simultaneously!) while traveling in Southeast Asia. He was hospitalized and had significant challenges getting diagnosed at the time. Later on, he also conducted mosquito surveillance for regional authorities in New Mexico. These experiences drove us to develop decentralized diagnostics and real-time vector surveillance solutions which are now used globally for a wide range of tick-borne and mosquito-borne pathogens.
Marc DeJohn, who leads engineering, saw that smartphones were playing an increasing role in our personal healthcare and he wanted to transform a smartphone (iPhone 4 at the time) into a real-time PCR Thermocycler, to empower anyone anywhere with the capabilities of a molecular lab in the palm of their hand.
And for me, my two daughters were very young at the time and I was constantly frustrated by my pediatrician's inability to provide accurate test results when I needed them. I wrote a blog post about it . Then, when Marc mentioned all the amazing things we could do with mobile hand-held PCR, I was hooked and have never looked back!
How has Biomeme and your role within the organization evolved over the years?
My two co-founders are the technical geniuses behind our DNA/RNA extraction technology, shelf-stable tests, and mobile thermocyclers. My role has always been to build the business foundation to support these inventions and get them widely adopted globally. Until recently, I handled most non-technical areas: fundraising, marketing, business development, sales, account management, customer support, HR, legal, accounting, office management, and much more. The company phone and even the front door buzzer forwarded to my cell! As we've grown from 3 co-founders to over 260 employees and perhaps another 100 part-time/contractors, I've been able to hire subject matter experts which has been wonderful. It leaves me with more time to do the things I love developing our business strategy, sharing my love of our products and the science with new clients, and assisting customers when they have challenges.
Biomeme experienced seismic growth during the pandemic because of the company's response to COVID with its rapid COVID-19 test and other diagnostic hardware. Can you talk about that pivot and what it was like to scale a company/grow a team under such extraordinary circumstances?
Scaling is never easy but it's significantly more challenging when you make physical products that include hardware, software, biochemistry, as well as testing services across the US. Then layer on the complexity of this being a regulated human health industry. And finally inject the complexity of this all occurring during a global crisis.
Scaling during the pandemic has been so incredibly difficult. I remember at one point during a single week we had a total collapse of the global supply chain, riots and a burned-out police car in front of our office, all deliveries/pickups cancelled, multiple staff sick with COVID, and I think there was even a tornado in Philly that week!? None of this would have been possible without our incredible team that has been going non-stop dealing with challenges while building a sustainable business. We've grown from approximately 30 people in Philadelphia pre-pandemic to 300+ team members across 8 cities.
Why was it important for you to help contribute to solving the problem in this way? What prompted you to take action?
Marc, Jesse, and I have always thought our mobile real-time PCR solutions were uniquely designed for decentralized diagnostics and real-time disease surveillance – essential capabilities during a global pandemic. The limited use of our technology during the 2014-2016 Ebola outbreak in West Africa led us to accelerate development of a full suite of global pandemic solutions. And, when COVID hit the United States, we were ready to deploy our solutions that are now widely used for rapid SARS-CoV-2 diagnostics and even wastewater surveillance.
Biomeme is a true Philadelphia success story having launched and grown in the city of brotherly love and benefiting from local resources like Ben Franklin, NextFab, PACT and our own Launch Lane Accelerator (fka Digital Health Accelerator). What would you say to those weary of Philadelphia's startup scene?
Biomeme has found Philadelphia to be a wonderful city in which to build its biotech business. A significant portion of our manufacturing and supply chain is located either in the city or the region. This has been incredibly important during the pandemic. The majority of our talented staff come from Philadelphia's major universities and graduate programs. And the city itself is just a wonderful place to live with fantastic restaurants and (relatively) bike-friendly streets.
As a kid, what did you want to be when you grew up?
Brain surgeon in elementary school. Psychologist like my parents in middle school. Rabbi in early high school, followed by ceramicist. After that, I just focused less on a grand lifetime career and simply on what I wanted to do "next."
Favorite thing about Philadelphia?
Philly's BYOB scene.
What's your superpower?
Treading water. It's been a long year.
About the University City Science Center
The University City Science Center is Philadelphia's premier catalyst of entrepreneurial activity, healthcare innovation, and economic growth. Established in 1963, the nonprofit has been globally recognized by The Brookings Institution as a best-in-class investor, mentor, and economic development partner for young technology companies. Working alongside industry partners and leading research and academic institutions across the globe, the Science Center has supported over 1,000 early-stage companies. Today, the organization advances healthcare innovation from idea to the marketplace through startup support services, allocating capital, gathering the innovation community, and building inclusive STEM career pathways for Philadelphia youth and adults.