As the world crosses the 1-year mark since the World Health Organization classified COVID-19 as a pandemic, testing is still as crucial as ever. The United States tests an average of 2.78 people per thousand people per day, but that alone is not enough to re-open the country and return to a "new normal." What is the "new normal," though?
To start, it's returning children to school safely. President Biden vowed to reopen schools in his first 100 days in office. The Biden Administration recently announced they would distribute $10 billion to states to support viral testing in schools to support in-person education to reach that goal.
The Biden Administrations' call-to-action to reopen schools responsibly is why Biomeme and One Health Labs decided to partner with Concentric by Ginkgo Bioworks, Inc. (Ginkgo). Together we will offer pooled testing to K-12 schools across the United States.
"As communities across America work to accomplish the national priority of returning to in-person learning over the coming months, testing will be a critical tool to monitor the viral spread and build confidence among students, teachers, and families," said Jason Kelly, CEO and co-founder of Ginkgo. "Pooled testing gives schools a simple-to-implement protocol to test every student, every week, providing a scalable approach for collecting vital information and tracking the virus."
We believe this approach to testing is the most effective way to reopen our K-12 schools responsibly, balancing low-cost and highly sensitive COVID surveillance. Read the full press release here.
Why we partnered with Ginkgo Bioworks
Both Biomeme and Ginkgo have been actively supporting a number of COVID-19 response efforts outside of Concentric by Ginkgo, including community testing, epidemiological sequencing, vaccine development, and therapeutics discovery, so it was a natural fit.
Concentric by Ginkgo offers SARS-CoV-2 pooled testing services to public K-12 and special education schools. Pooling makes it possible for students and teachers to combine swabs in a single tube and run them in a single test, greatly simplifying sample collection logistics, reducing the need for additional PPE and test kits, and lowering the cost of testing to as little as $6 per person. This type of testing gives schools and districts group-level data to make informed public health decisions at a fraction of individual testing costs while bringing students and teachers back to school with peace of mind.
"Biomeme and Ginkgo have successfully collaborated on numerous biosurveillance projects in the past, so when the opportunity came to help them scale access to COVID-19 tests for communities everywhere, it was an easy decision for us to make," said Max Perelman, co-founder and business lead at Biomeme. "Their swab pooling method can be run on our existing testing infrastructure, and our goal is to provide 24-hour turnaround."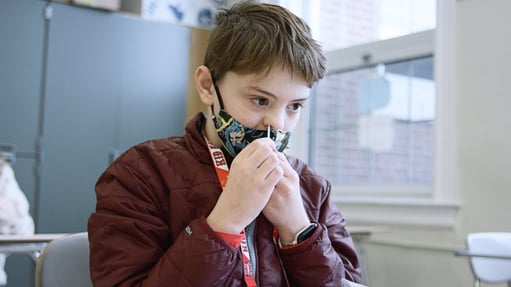 Student from Collins Middle School, Salem, MA. Photo Credit: Photo credit: Copper Hound Pictures
Concentric by Ginkgo currently runs testing for hundreds of schools across the country, including large-scale programs in the Commonwealth of Massachusetts, Baltimore City Public Schools, and Maryland's Montgomery County. Concentric by Ginkgo expects to onboard numerous additional schools across the country in the coming weeks.
How can my K-12 school get started?
Pooled testing tests up to 25 students and staff using a single test, keeping test rates low without sacrificing sensitivity. To learn more about Concentric by Ginkgo or get your school district involved, head over to concentricbyginkgo.com.