At the 2017 American Society for Cell Biology Meeting held in Philadelphia Pennsylvania, Amy Prunuske, Ph.D. a faculty member at the Medical College of Wisconsin and University of Wisconsin–Stevens Point students presented a poster on their work detecting pathogens associated with ticks using the Biomeme two3 and the Tick + Pathogen Panel M1 Go-Kit.

The following is an abstract for their work:
"The Ixodes scapularis tick has been expanding its range across the upper Midwest and New England, which is likely to be increasing the risk to individuals of developing tick-borne illnesses. Ticks acquire pathogens from primary reservoir hosts like the white-footed mouse, Peromyscus maniculatus, and depending on the prevalence of the primary host in the environment there can be variability in the percentage of ticks carrying the pathogens associated with Lyme disease and Anaplasmosis. Public health data is limited by the number of samples that can be collected; however, with the advent of mobile technologies there are growing opportunities for the public to engage in citizen science. As part of a public education campaign to promote the adoption of behaviors that protect against Lyme disease, we have partnered with local middle school students in the extraction of tick DNA using Biomeme field sample preparation kits combined with portable real-time PCR analysis to test for the presence of pathogens. We have found that the students are able to successfully extract DNA that can be used in RT-PCR analyze and have found that 55% of ticks tested in Central Wisconsin carry Borrelia burgdorferi and 10% carry Anaplasma phagocytophilium. Importantly, we found a higher than random coincidence of the bacteria, which may impact disease transmission. Future work will involve pathogen strain analysis and a more in depth understanding of the benefits and challenges of engaging middle students in science."
The poster's full title is, "CITIZEN SCIENTISTS DETECT PATHOGENS ASSOCIATED WITH TICK-BORNE ILLNESSES IN Ixodes scapularis". Check out the full poster below, for more information about this project.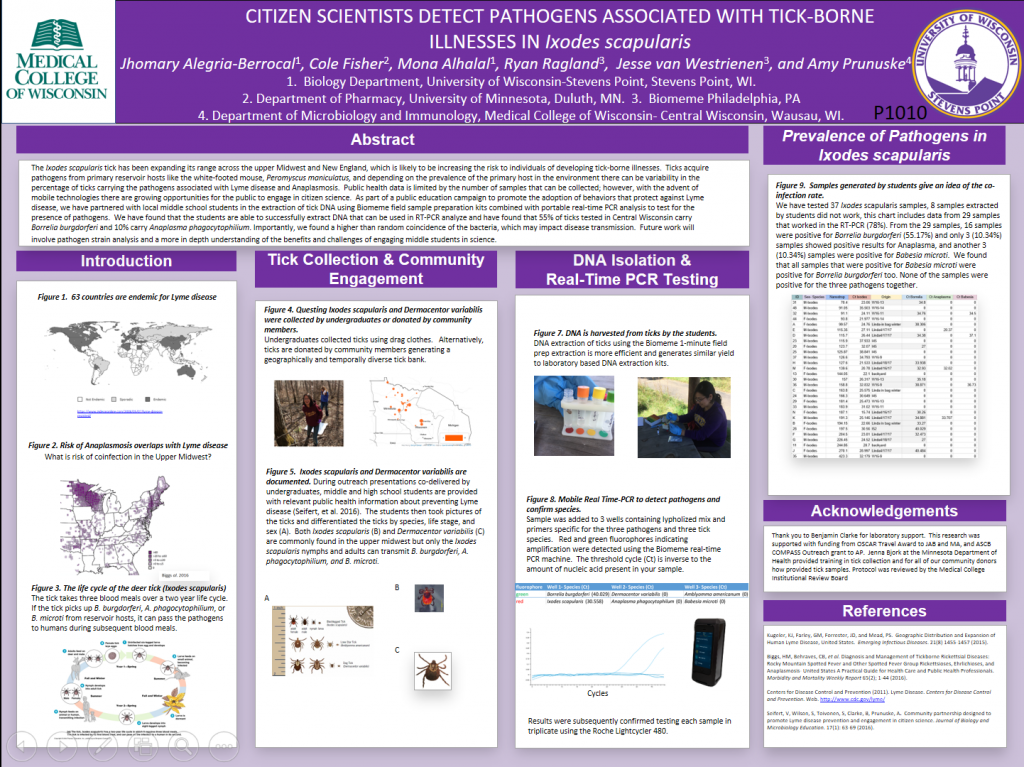 Citizen Scientists Detect Pathogens Associated with Tick-Borne Illness Poster