We are pleased to announce that the U.S. Food and Drug Administration (FDA) granted Biomeme's SARS-CoV-2 Real-Time RT-PCR Test Emergency Use Authorization (EUA) for use in laboratories that meet requirements to perform high complexity tests for the duration of the declaration. It is intended for use by qualified and trained clinical laboratory personnel specifically instructed and trained in the techniques of real-time PCR and in vitro diagnostic procedures.
If you are interested in Biomeme's SARS-CoV-2 Real-Time RT-PCR test for use in a CLIA High Complexity Laboratory, learn more here.
About Biomeme's SARS-CoV-2 Test
The Biomeme SARS-CoV-2 Real-Time RT-PCR Test is designed to detect the virus' Orf1ab and S genes in nasopharyngeal, nasal, and oropharyngeal swab specimens, as well as nasopharyngeal wash/aspirate or nasal aspirate specimens. Unlike wet assays, which must be stored frozen and require pipetting of multiple reagents by an experienced biologist, Biomeme's SARS-CoV-2 test is lyophilized (freeze-dried) to not only maximize shelf-life but to also enable easier transportation and storage without a cold chain.
Each test is a ready-to-use formulation that largely simplifies assay setup because each reaction well already contains the necessary master mix, enzymes, and multiplexed primers and probes. Our also includes Biomeme's RNA Process Control (RPC) for RNA extraction and RT-PCR to identify potential inhibition in RNA samples, differences in sample handling, or an issue with the reagents.
The test utilizes Biomeme's DNA/RNA Preservation Buffer for sample collection, M1 Sample Prep Cartridge for RNA extraction, and Biomeme's portable Franklin™ Real-Time qPCR Thermocycler using it's 3-well Go-Strips. Franklin's companion mobile app, Biomeme Go, is used to run the tests and display test results in real-time for fast, simple interpretation. The test can also be used with the BD swab collection kit with VTM and can be run using Biomeme's 96-well Go-Plates on lab-bound PCR systems such as Bio-Rad's CFX96 or Applied Biosystems Quant Studio 5. Whether using Biomeme's portable thermocycler to run up to 9 samples simultaneously or a lab thermocycler like the CFX96 or ABI QS5 to run up to 96 reactions, you can expect test results in as little as 1 hour.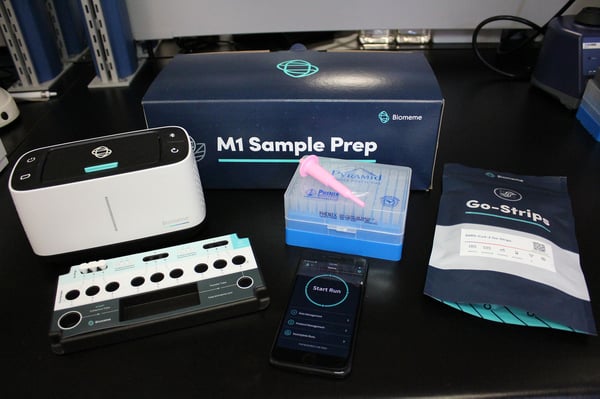 Biomeme co-founder and Biology Lead, Jesse vanWestrienen, took the lead on developing Biomeme's test in February when SARS-CoV-2 was still primarily contained in Asia and Europe. Jesse saw that the virus had the potential to affect the United States and quickly got to work developing a solution using Biomeme's field-ready products and his years of expertise. "One of the main reasons my co-founders and I founded Biomeme was that we wanted real-time PCR to be very accessible," said vanWestrienen. Biomeme's technology applied to SARS-CoV-2 gives healthcare providers the ability to rapidly detect the nucleic acid from the virus so that infected patients can be quarantined and treated to slow down the spread of COVID-19 no matter how remote the test site may be.
Key Differences Between Biomeme's Test and Others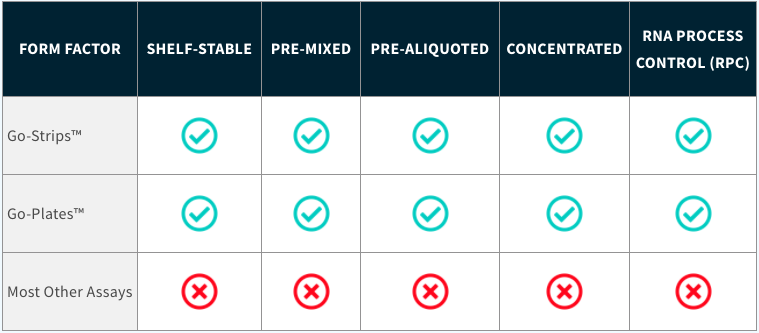 Shelf-Stable
Most assays require shipment on dry ice and storage in a -80°C freezer which can increase the risk of components going bad due to freeze and thaw cycles. With our test, there is no need for refrigeration, lab equipment, or mixing of wet reagents. Just add your purified RNA and get testing.
Pre-Mixed & Pre-Aliquoted
Most assays come in multiple components or in bulk and need to be mixed and aliquoted by an experienced molecular biologist, further increasing the risk of contamination. There is no mixing or aliquoting of components required with our test. It's already taken care of.
Concentrated
Because our test is lyophilized, you are able to add more sample ("template") to the test (20µL) which will directly increase sensitivity without throwing off your reagent concentrations.
Efficient
A multiplexed reaction means that all targets are in a single reaction. So, a single reaction equates to a single sample.
RNA Process Control (RPC)
Our test kits include a quantified exogenous positive control for RNA extraction and RT-PCR. It is a shelf-stable, lyophilized pellet of MS2 bacteriophage that you can expect to be detected at the same Cq every time.
Go-Strips™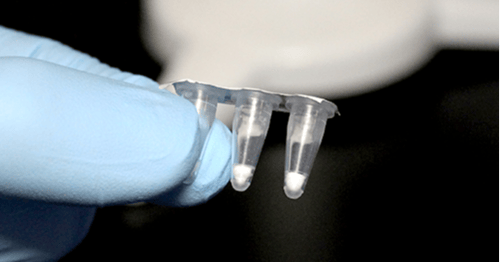 Each order consists of a single pouch containing a pre-cut and pre-aliquoted tray of (32) 3-well Go-Strips with void filling caps. Each well contains a 20 µL lyophilized triplex reaction.
Go-Plates™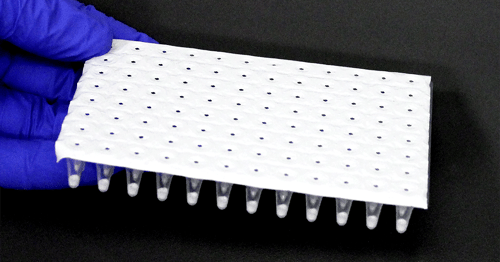 Each order consists of a single pouch containing a 96-well Go-Plate. Each well contains a 20 µL lyophilized triplex reaction. Go-Plates™ can be used on the Bio-Rad CFX, and the Applied Biosystems QuantStudio 5 thermocycler or cut into 3-well, 6-well, or 9-well strips for use in the Biomeme™ Franklin Real-Time PCR Thermocycler.
Clinical Evaluation
Summary of Biomeme SARS-CoV-2 Real-Time RT-PCR Assay Generated By Testing Human Respiratory Specimens Collected From Individual Nasopharyngeal Swabs:



Analytical Performance
Limit of Detection (LoD)
All SARS-CoV-2 Real-Time RT-PCR form factors have a Limit of Detection (LoD) of 1.8 genome equivalent per µL.
Analytical Reactivity (Inclusivity)
Alignments show 100% identity of the Biomeme SARS-CoV-2 multiplex to the publicly available SARS-CoV-2 sequences in the betacoronavirus nucleotide sequence database.
Analytical Specificity (Exclusivity)
No significant combined homologies with human genome, other coronaviruses, or human microflora that would predict potential false-positive rRT-PCR results.
Watch our How-To Videos to see just how easy it is to use Biomeme's end-to-end SARS-CoV-2 test.
Continue To Prevent the Spread of COVID-19
To prevent the spread of disease, Centers for Disease Control and Prevention (CDC) recommends that you frequently wash your hands with soap and water for at least 20 seconds, clean and disinfect frequently touched surfaces, avoid close contact with others, and avoid touching your eyes, nose, and mouth.
If you think you have come into contact with someone with COVID-19 and start to experience symptoms (fever, dry cough, shortness of breath, etc.), stay at home and distance yourself from others. If you need medical attention, contact your healthcare provider and let them know you may have COVID-19 before going into their office.
For updates on COVID-19, you can follow the FDA updates here, CDC updates here, or World Health Organization (WHO) updates here.